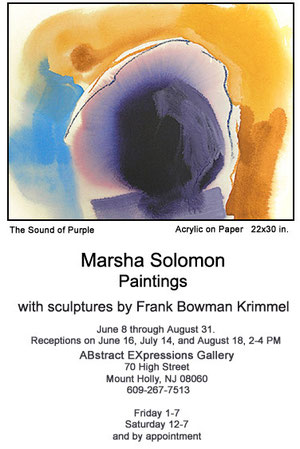 Expressions of wholeness –
From Rhythm to Form
The abstract paintings of Marsha Solomon
By Mary Gorgy
Through the abstract paintings of Marsha Solomon, the viewer enters an alternate space where thoughts are quieted and emotions are evoked by color and line, predominantly circles of completeness.  Her portfolio of works titled From Rhythm to Form follow a simple yet powerful formula, in which colors form shapes through interactions and absences.  Each painting expresses simplicity, building strong statements from the most fundamental forms.  The interplay of colors, perhaps blue and red, the variation of opacity, positive and negative spaces—all these combine to create a dynamic image that is about no less than the elements of art itself.
This series of work hearkens to and recalls the heights of Abstract Expressionism.  The force of Motherwell, the lyricism of Frankenthaler, the alternatingly delicate and bold interplay of tones as seen in Morris Louis, all find a new voice in Ms. Solomon's work.  Her work exhibits both spontaneityand deliberation.  The sometimes serendipitous outcome of a pour of thinned liquid acrylic stain is then contained, corralled, and completed by a thick stroke of impasto.  Her images remind the viewer of an inverse of the Japanese Enso.  Just as the Enso's absence of center invites contemplation of Zen emptiness, in Solomon's case, the presence of a center suggest a meditative expression of wholeness.
While all of Marsha Solomon's work, whether realistic—as in her Still Life series or her sumi-ink paintings of vines—are born from and based in abstraction, in From Rhythm to Form they reach the pinnacle of this style.  In these colorful paintings, Solomon presents the viewer with a vision, not of theory and thoughts, but of pure beauty formed by color, shape and her innovative yet fully realized and accomplished technique.
Mary Gorgy is an independent art critic, novelist and art historian.