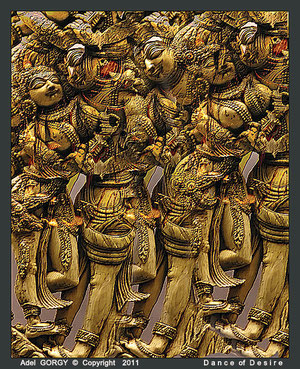 Link: http://www.adelgorgy.com/
_____________________________________________________
Ficus carica
  In this country
it's a tradition
to make a wish upon
  the first bite
of the season's fruit,
the first peach, cherry, nectarine,
  cachi, so as I peel this
first fig, slowly pull its skin away
like a mammalian membrane,
  I make the wish
  that each of our
days might have some of
that taste of reunion
  after long
absence, the salty-
sweet homecoming kiss, the airport
  embarrassment of laughing
and crying both into each other's
shirts. And it seems to me the fig
  is the perfect
  embodiment
of all the above,
the fruit of yin and yang,
  masculine
in shape, yet deeply
feminine in its opening;
  how, on the one hand, it was
a tree like this under which Buddha
sat and found enlightenment, while
  on the other,
  these were the leaves
that Adam reached for
to clothe their humanness
  when they saw
that they were naked
and learned of shame. How many fruits
  acquire their musky sweetness
from the strange symbiosis of wasp
and worm? I don't know, but I think
  of the first figs  
  of that summer
when we met, how he
carefully peeled the fruit,
  offered me
the sweet and strangely
tentacular flesh, almost too
  ripe but not quite, and he kissed me
and church bells clamored out the Angelus
and he kissed me again and (yes)
  I made a wish.   

Moira Egan

(First appeared in The Hampden-Sydney Poetry Review, Winter 2008)
Link: http://moiraegan.com/