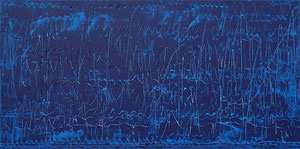 SINKING INTO SILENCE
The goddess of the night calls me
voicelessly
to relinquish myself to her silent guidance
through souls' paths intertwined,
flickers of images and reflections,
through shouts echoing numerous times.
She calls me with her mouth silent to follow her
with my eyes unopened
to be guided by soundlessness,
not to tap with my hands in search of the path
or to stretch my arms out in search of solace,
but to trust her
that silence is what I hear best,
vagueness what I decipher most clearly
and a touch is more intimate when the hands are forgotten.
The goddess of the night calls me
to her empire with no beginning or end,
with depths and an expanse like an ocean
that I sink into without gasping for the last breath
and without sounding a call for help,
without any wish to reach the sparkling surface
where I had thought my salvation is.
I let myself fall into her embrace
in the empire of silence
with no images or sounds, feelings or scents,
and I don't know anymore, am I dead
or more alive than ever before.
By Boris Pecigoš, November 15, 2009
English translation: Erika Katačić Kožić, 2012