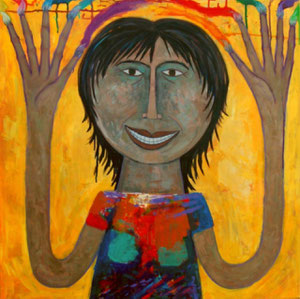 SINESTESIAS

Alejandra Miranda (año 2008)


¿Buscas un despertar?
En el arenal,  el gran pájaro susurra:
arcoiris y silencio de papel desierto.
Lágrimas y risas son frágiles,
dibujan caminos y  encuentros.
En el aleteo de cientos de mariposas
presiento el color profundo del océano.
Eléctrica y azul la tormenta nos refleja.
Escucho el latido de una flor.
La paz coincide con mi piel
y vibra la cicatriz del horizonte.
Bajo un cielo mudo, trazo, respiro,
bosquejo, amo, delineo, vivo, pinto
alas, perfumes, ojos, sabores
y un canto imposible de atrapar.
Las palabras generan tramas.
Que tus manos sean pinceles,
y un día verás partir tu esencia
unida al tornasol de un colibrí.
______________________________________
(Translated into English)               
          S Y N E S T H E S I A S
Are you looking for an awakening?
In the sands, the big bird whispers:
rainbow and silence of deserted paper.
Tears and laughter are delicate,
drawing paths and encounters.
In the flutter of the wings of hundreds of butterflies
I feel the deep colour of the ocean.
Electric and blue the storm reflects us.
I hear the heartbeat of a flower
The peace coincides with my skin
and the scar of the horizon trembles.
Beneath a silent sky, I draw, I breathe,
I sketch, I love, I draft, I live, I paint
wings, perfumes, eyes, flavors
and a song that's impossible to catch.
The words create stories
so that your hands become paintbrushes,
and one day you'll see your soul depart
bound to the brightness of a hummingbird.