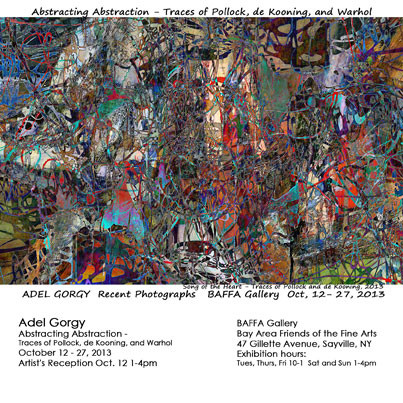 "Abstracting Abstraction - Traces of Pollock, de Kooning, and Warhol" - exhibition by Adel Gorgy, USA
 BAFFA Gallery, Sayville, NY
October 12-27, 2013
Acknowledgement
I thank the poets whose poems have inspired these collaborations and those for whom my work was inspirational.
Hassanal Abdullah,  Mia Barkan Clarke,  Stanley H. Barkan,  Laura Boss, Sultan Catto,  Lidia Chiarelli,  Joan Digby,  John Digby,  Kristine Doll, Charles Fishman,  Maria Mazziotti Gillan,  Mary Gorgy,  
Peter Thabit Jones,  Carolyn Mary Kleefeld,  Robin Metz,  Nabil Naoum, Marsha Solomon,  Aeronwy Thomas,  and  Bill Wolak
I also thank Aeronwy Thomas, the first poet with whom I collaborated, Immagine&Poesia the international art/literary movement in Torino, Italy, and its president, Lidia Chiarelli, who sparked these collaborations, and Stanley H. Barkan, the publisher of Cross-Cultural Communications, who published these collaborations as the Art & Poetry Series of broadsides.
For all you, my dear friends, I am ever grateful.
                                                               Adel Gorgy
Adel Gorgy
Abstracting Abstraction – Traces of Pollock, de Kooning and Warhol
BAFFA Gallery, Oct. 12- 27, 2013
Review by Mary Gregory
There are artists who seek truth, not flinching from what they see, artists who seek beauty, looking only where they find it, and rare individuals and artists who see beauty in everything.  Adel Gorgy is one of them, as evinced by the many diverse bodies of work which all display a profound outlook on the world around him.
Whether the subject of his art is nature, humanity, history, spirituality, or as it often is, art, itself, Gorgy both finds and offers new ways of seeing. 
As seen in previous exhibitions, over the past few years, Gorgy has developed a large body of photographic work in which he revisits and reinterprets the work of renowned artists like Picasso, Monet, Van Gogh, Rembrandt and others.  Through a complex process, he extracts the brushstrokes of these artists, and uses them to create completely new abstract compositions.  While the individual brushstrokes and sometimes the colors of the earlier work may be perceived, the composition and the context have been altered and remade.  The new composition is a collaboration—both the hand of the earlier artist and Gorgy's own hand combine to form a new work of art.
In his recent series, Abstracting Abstraction - Traces of Pollock, de Kooning and Warhol,
Gorgy has turned his eye to masterworks of Abstract Art.  While in the earlier work, Seeing Art Anew, the original works were largely realistic or impressionistic, in this group, Gorgy decided to push the limits of his own vision.  Abstracting realism stripped from portraits, still-lifes and landscapes their inherent associations.  What could he achieve by abstracting abstraction? 
The origin of the series was a trip the Pollock-Krasner House on Long Island.  There, he encountered vestiges of drips and gestural sweeps of paint on the floor of Pollock's studio.  Pollock had left them, and Gorgy chose to reclaim them.  In the first pieces of Abstracting Abstraction, he recomposed and recontextualized these traces of Pollock into new, original compositions.   
It's a style of work that has strong precedents in Modern Art.  Over the past century, artists like Duchamp, Picasso and Magritte have used found objects in their work—sometimes altering them, as in Picasso's bicycle seat/handlebar sculpture, Bull's Head, sometimes, just re-envisioning them, as in Rauschenberg's combines.  Andy Warhol and later appropriation artists simply restated existing works, thereby applying new meanings.  
And yet, no matter what the message, the delivery must have merit.  Art is still the synthesis of what is being said and how it is being said—content and intent, image and meaning.
Adel Gorgy's work is beautiful, complex, and meticulous.  In Abstracting Abstraction, he takes up to 80 or more images, creating underlays, shades, traces and sometimes not more than a whisper of earlier works, to arrive at a new composition that harmonizes or contrasts with its inspiration, but speaks in a voice wholly that of Adel Gorgy. 
In Song of the Heart and Sonnet for Love, complex sweeping lines, washes of color and tonal fields that may have originated from Pollock or de Kooning are recomposed and remade by Gorgy into a rich and luxurious field that fills the eye and transports the viewer.  Gorgy makes no attempt at pictorial reference, but includes all its separate elements—depth, line, and color—joined into a formlessness, and timelessness reminiscent of the uncontrolled nature of the universe, itself. 
If it is the statement, more than the method, that matters, then Gorgy's work is all the more important, for he is making one of the simplest, most relevant, and obvious statements about art, and that is, "Look."  In these pieces, which are the evolution of earlier works, he shows that art is never static.  His response to these traces of Pollock, de Kooning and Warhol may have little to do with their vision.  The viewer's response to these pieces will be his or her own, and may have little to do with the Gorgy's intent.  And he welcomes that. 
Art belongs to the realm of the spirit.  It voices that which is beyond words.  Adel Gorgy, in the photographs in Abstracting Abstraction – Traces of Pollock, de Kooning and Warhol, expresses both a moment and a journey.  There is an initial moment of recognition, followed by a journey of discovery and creativity.  The resulting images are compelling, revelatory, original, and above all, beautiful.
Mary Gregory is an art historian, novelist and arts writer for Long Island Pulse Magazine.