"The Book of Mysteries"  Fine Art Photo by Adel Gorgy. "The Worm in the Book" Poem by Stanley H. Barkan
Credit: Cross-Cultural Communications Art & Poetry Series Broadsides # 79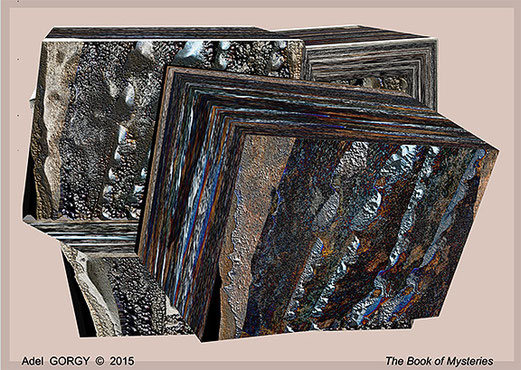 _______________________________________________________
THE WORM IN THE BOOK
for Alfred Van Loen
"The worm crawled in
on page one-thousand-and-one
and left on page ten."
So it was written in pencil
on the top-left corner
of the title page
of the Book of Levi,
filled with fine line drawings
etched or engraved
on the pages of parchment
bound without glue.
The Dutch artist
of the continuous line
—like Brancusi's endless column—
pointed it out to me
as I held
with both hands
this incunabulum
of his family,
descendants of Moses,
whose stories had been passed down
from Sinai and Nebo
to all the children
descending to the valley of the Jordan,
crossing over in fulfillment of promises
—covenants made and broken—
told and retold,
inscribed and stitched together
—from time to time—
in books like this one.
But, somehow, always a worm in a page,
in an apple on a tree in a garden,
spoiling the linkages of millennia.
Let this epigraph be my epitaph:
"The worm crawled in . . . and out again."
—Stanley H. Barkan
 http://www.thedrunkenboat.com/ccc.html
_______________________________________________________