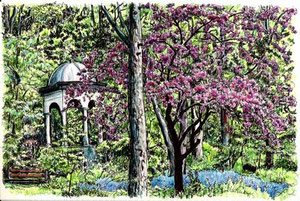 down this long leaf-lit lane
for friends who share a season's walk.
Earth, roots, crowns of trees
become one shining sheath
wrapped in the electricity of change.
River-song calls at path's end
laps them in water wisdom
of the flow of life and time,
sentinel old cabin empty of form
yet filled with moving shadows
Feet leave no foot-prints
where only the walkers disappear
into the welcoming earth.
Katherine L. Gordon is a rural Ontario poet enjoying
an international connection to contemporary poets
through her books, anthologies and reviews.