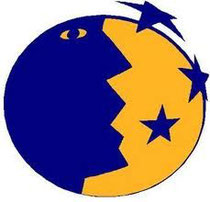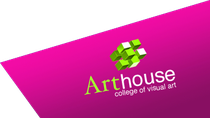 ArtHouse - College of Visual Art - Ljubljana - Slovenia

Pripravil: e-referat 
Pošta: Devova 18, 1000 Ljubljana
Šola za risanje in slikanje
Slike, te alma mater vsega likovnega ne razumemo samo kot zrcalo dogodka ali v posebnem mediju procesirano novo unikatno idejo; razumemo jo tudi kot podobo z estetsko vrednostjo, namenjeno duhovnemu uživanju, dojemanju in izražanju, omiki in kontemplaciji.
_____________________________________________________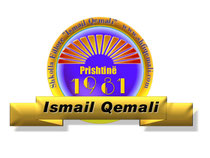 "ISMAIL QEMALI"  elementary School
 
City: PRISTINA

Country: KOSOVA.
---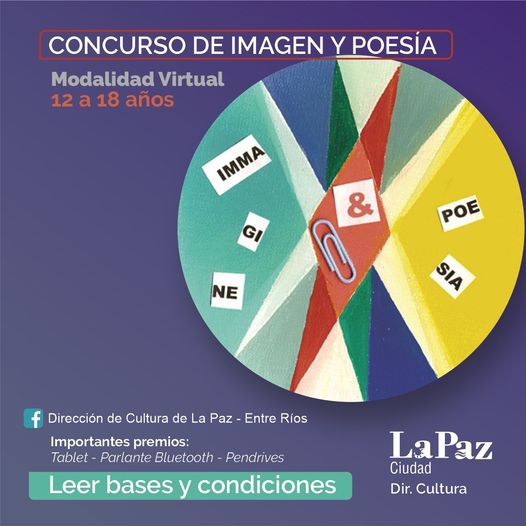 En Argentina, organizado para las escuelas de nivel secundario de la ciudad de La Paz, Entre Ríos

CONCURSO DE IMAGEN Y POESÍA
En el marco del mes del estudiante y del fotógrafo, desde la Dirección de cultura convocamos a todos los jóvenes entre 12 y 18 años a participar del concurso de Imagen y Poesía
Bases y condiciones
1- Cada participante debe presentar una poesía más una fotografía que esté relacionada de alguna manera con el texto de la poesía.
2- Las poesías deben tener un máximo de 30 versos y se admite el verso libre. La foto que la acompaña debe tener una buena definición
3- Ambas deben ser originales e inéditas.
4- El tema es libre.
5- Las fotos pueden ser en blanco y negro o color y se aceptan sacadas con el celular
6- Los participantes estarán divididos en dos categorías.
Categoría A de 12 a 14 años.
---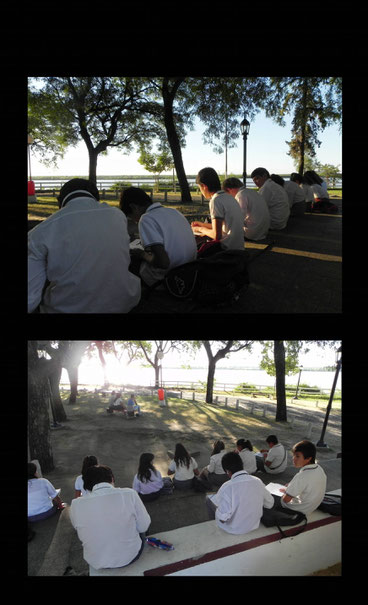 Los alumnos de 1º año "A" Y "B" , trabajaron con la poesía "Fui al Río" con actividades de lectura, comprensión lectora, extracción y clasificación de clases de palabras. Las actividades propuestas se orientaron a modo de diagnóstico inicial, referente a los saberes previos de los alumnos, provenientes de diferentes instituciones escolares.La poesía resultó agradable y motivadora para los estudiantes, quiénes trabajaron con entusiasmo en la lectura y resolución de actividades. Profesora Marcela Silvani
En el área de Artes Visuales
Después que los alumnos trabajaron la poesía con la Profesora Marcela Silvani.
Los llevé a la orilla del río a realizar dibujos a lápiz y teniendo en cuenta lo que habían leido.
Profesora Alejandra Miranda
________________________________________________________
Fui al río... (Juan L Ortiz)

Fui al río, y lo sentía
cerca de mí, enfrente de mí.
Las ramas tenían voces
que no llegaban hasta mí.
La corriente decía
cosas que no entendía.
Me angustiaba casi.
Quería comprenderlo,
sentir qué decía el cielo vago y pálido en él
con sus primeras sílabas alargadas,
pero no podía.
Regresaba
—¿Era yo el que regresaba?—
en la angustia vaga
de sentirme solo entre las cosas últimas y secretas.
De pronto sentí el río en mí,
corría en mí
con sus orillas trémulas de señas,
con sus hondos reflejos apenas estrellados.
Corría el río en mí con sus ramajes.
Era yo un río en el anochecer,
y suspiraban en mí los árboles,
y el sendero y las hierbas se apagaban en mí.
Me atravesaba un río, me atravesaba un río!
IMAGEN Y POESÍA PROYECTO EN LAS ESCUELAS
Proyecto de ARTES VISUALES para primer año de la Escuela Secundaria Nro 9 "Domingo Faustino Sarmiento" de la ciudad de La Paz (Entre Ríos) realizado por la Artista Visual y Profesora de Artes Visuales Alejandra Miranda para ser desarrollado en los seis primeros meses de este año lectivo.
PROYECTO PRIMER AÑO.pdf
Documento Adobe Acrobat
562.5 KB
 Escuela Nº 98 "Patria Argentina" EGB3
Ruta Prov. Nº1, en el Km 12, Distrito Estacas.

City: La Paz - Entre Ríos
Country: Argentina
Link: http://escuela98patriaargentina.blogspot.it/
       http://caj-semillerodefuturo.blogspot.it/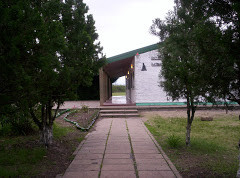 ________________________________________________________
___________________________________________________
Norway - Sarpsborg
Grålum ungdomsskole
http://www.sarpsborg.com/Servicetorget/Om-Sarpsborg-kommune/Enheter/Gralum-ungdomsskole/

Several classes have visited the exhibition of IMMAGINE & POESIA at Tune Library - Sarpsborg - September 2014
Art Curator: Marit Risto Fagerli
_____________________________________________________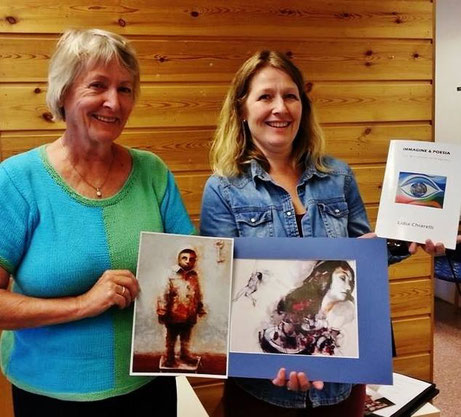 Mette, the art-teacher at Grålum ungdomsskole, with her pictures by Mirek Antoniewicz and Fotini Hamidieli. And Marianne, the culture woman at Tune library, with Lidia Chiarelli's book.
___________________________________________________