FROM THE GREENPEACE DREAMBOOK
Aboard the S.S. James Bay, October 4, 1977
Dreamt of
Moby Dick the Great White Whale
cruising about with a sign on him--
"I am what is left of Wild Nature"
And Ahab pursuing in a jet boat
with ray guns and jet harpoons
and super depth charges
and napalm flamethrowers and
electric underwater vibrators
and the whole gory glorious efficient
military-political- industrial-scientific
technology of the greatest civilization
mother earth has ever known
devoted to the absolute extinction
of the natural world
And Captain Ahab
Captain Death
Captain Apocalypse at the helm
of the killer ship of death
And the blue-eyes whales
exhausted and running
but still
singing to each other...
Lawrence Ferlinghetti 
---
Dal libro dei sogni di Greenpeace
(A bordo della S.S. James Bay, 4 ottobre 1977)
Ho sognato
Moby Dick la Grande Balena Bianca
che solcava le acque con un cartello su di sé--
"Sono ciò che resta della Natura Incontaminata"
E Achab che la inseguiva su un motoscafo
con pistole laser e lancia-arpioni
e bombe di profondità
e lanciafiamme al napalm e
vibratori elettrici subacquei
e l'intera cruenta gloriosa efficiente
tecnologia politico-militare-scientifico-industriale
della più grande civiltà
che madre terra abbia mai conosciuto
dedicata alla totale estinzione
del mondo naturale
E il Capitano Achab
Capitano Morte
Capitano Apocalisse al timone
della nave assassina della Morte
E le balene dagli occhi blu
esauste e in fuga
che ancora cantano l'una all'altra...
Lawrence Ferlinghetti
Traduzione di Giada Diano
---
---
Un grande universo di emozioni
A cura di Silvia Ferrara
Il 15 settembre alle ore 17.30 si è inaugurata presso Palazzo  Pozzo della Cisterna la manifestazione artistica dedicata a Lawrence Ferlinghetti e ad Arte Città Amica. Anche quest'anno  dunque si rinnova con mia grande gioia l'appuntamento annuale che vede protagonisti Immagine & Poesia – movimento artistico letterario diretto da Lidia Chiarelli – il noto vate della Beat Generation Lawrence Ferlinghetti e gli artisti di Arte Città Amica. La poesia scritta in tale occasione s'intitola "Dal libro dei sogni di Greenpeace" ed è proprio il Sogno di Moby Dick ad essere protagonista dell'opera letteraria, anche se i personaggi rappresentano simboli alquanto diversi da quelli noti.
L'icona di Moby Dick non è più proiettata verso la lotta tra il Bene e il Male ma si desidera andare oltre e porre in luce la grande balena intesa come l'ultimo baluardo della Natura Incontaminata, come anche sottolinea Lidia Chiarelli. Il capitano Achab si trasforma nel capitano Morte, ma il sogno inteso in senso Assoluto riman etereo, inarrestabile.
Ho desiderato porre in risalto un verso della poesia che descrive in modo appieno l'esistenza di un "universo sognante" ove un mare turneriano e dunque ricco di luci ed ombre avvolge i personaggi simbolo della nota lirica. C'è così un allontanamento dalla più sognante e classica narrazione dell'opera di Herman Melville per avvicinarsi ad un mondo inglobato di dura realtà ove le emozioni e il panorama attuale s'intinge di un notevole pluralismo.
Gli artisti anche quest'anno sono chiamati ad esprimere il loro talento in parte ispirandosi alla poesia di Ferlinghetti, in parte seguendo un tema libero. Ho notato come quest'anno in modo particolare sia presente il desiderio di molti artisti di realizzare opere molto ispirate ai suddetti versi: questo perchè l'artista pone l'accento sul suo pensiero riguardante il rapporto con la Natura e in genere con la società.
Orazio nelle sue liriche spesso confrontava l'Ars Poetica con quella Pittorica evidenziando come in entrambi i componimenti sussistano rielaborazioni personali, percorsi del proprio "io" che incantano. Vorrei, non per ultimo, farvi notare come Moby Dick venga considerata in moltissimi ambiti un importante simbolo, o meglio una sorta di "anima-coscienza" che naviga in un'acqua chiamata universo di emozioni.
"E le balene, dagli occhi blu, esauste in fuga, che ancora cantano l'una all'altra".
---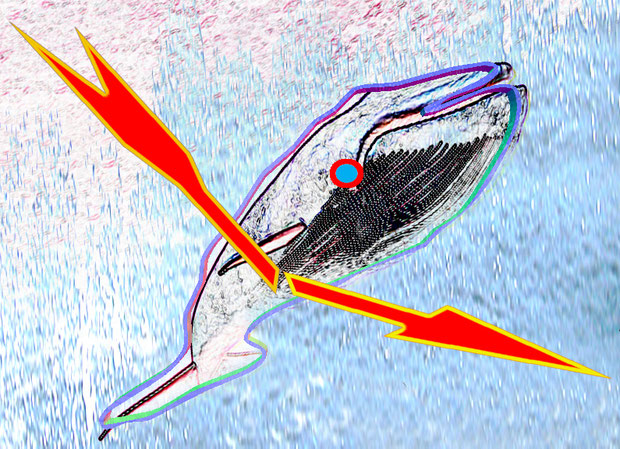 Gorgy  Adel, Long Island, NY, USA
The Big Miss
Photographic artwork
Pigment Ink Print
30x40 inches
---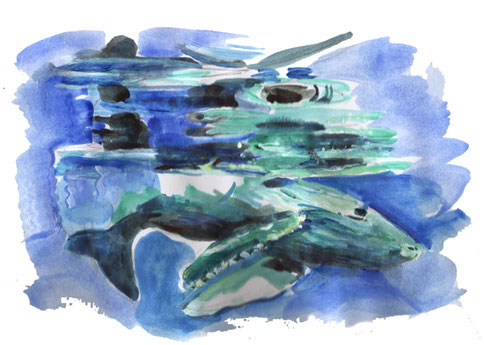 Solomon Marsha,  Long Island, NY, USA
 Whale Song
Acrylic on Watercolor paper
9x12 inches
---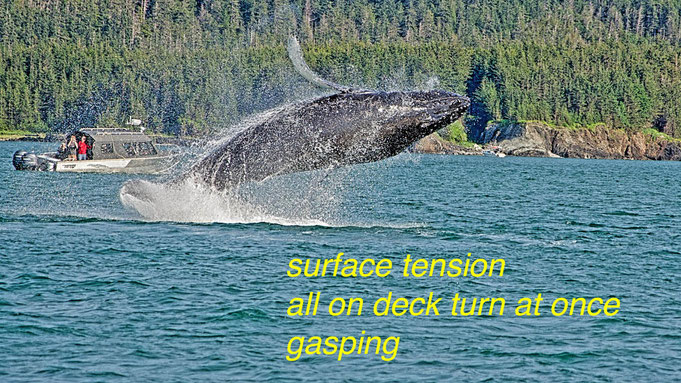 digital photograph by Elaine Whitman
haiku poem by Neal Whitman
California, USA
Bio: Elaine and Neal Whitman took a cruise to Alaska to celebrate their 35th wedding anniversary. The way they most like to celebrate their love is to collaborate by combining her photographs with his poetry. 
---
---