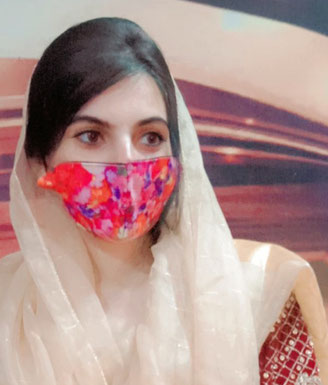 .
A message of peace
.
I want to spread the message of peace
In this whole world
We all want peace
Let's be a song
of peace
Throw away the sorrow
To hate
Cover the cloak of love
And become
Companions of love
And flowers like that
Give fragrance to everyone
Life is too short
Fill it with color
Each other's tears
clean up
And stick together
.
Anila Talib 
.
Pakistan
"Positive Face of Pakistan by Syeda Anila Talib" 
Anila Talib is an award-winning writer from 61 countries. She belongs to a village in the of Gujranwala. In her area, there was no education for girls. It was a backward area whose people were deprived of basic rights.
 Anila Talib not only got her own education, but also started a private school for girls under the supervision of her father named Rezai Mustafa Middle School, which she ran for five years by giving free books, stationery, free uniforms, not from her school.  Not only her village but the surrounding villages also benefited and she was able to successfully educate 2500 girls.  She also established a free dispensary in his area, under the auspices of which more than three hundred people underwent free eye surgeries and every Sunday evening for five years, she continued to provide the services of a doctor in her area for a fee of only five rupees.  Anila Talib donated two lakh rupees worth of medicine to her dispensary under the auspices of Standard Treatment Dispensary.
So far she has married fifty girls.
She took care of public education, encouraging people to read books.
She started a project with which 50 thousand people have been provided digital books for free, thanks to this project the students of the underprivileged areas have learned a lot.
She started giving lectures on ethics from the age of 10, the number of participants has reached 1000.
She kept  doors open for the poor of her area and freed them from mental restrictions by giving free counseling to 250 to 3000 sick divorced women.
She provided a platform for writers and published the writings of eight hundred and sixty girls in newspapers giving free services and published a digital magazine called Zuriz Magazine in which the writings of new writers are published.
Moreover, Anila Talib has done everything to prevent cruelty to birds and animals.
Save the animals, is the name of the campaign started and so far more than two hundred injured animals have been treated.
Anila Talib's aim
  is the education of girls, that's why they have not only given education to girls with less resources, but also led free online courses to give them skills.
More than 1000 girls have taken many courses including sewing, cooking arts and craft, beautification, Quran, spirituality, which are also provided with free digital certificates.
She thought of re-using plastic to control environmental pollution and made five hundred bird feeders from plastic bottles in Gujranwala, Mansehra, Gujrat Chakwal and Lahore.
Bird feeders were attached to the trees for bird food, which thousands of birds benefited from water and grain in the hot summer. She has given free religious and moral education to more than five thousand girls so far.
In the future, they want to establish a quality free school for the two million children of Pakistan.
The area where the existence of a daughter was considered a punishment, now because of Anila Talib's achievements and courage, daughters are considered a blessing.
Anila Talib
  received the merit award from the royal family of Indonesia and this is what she said:
"In the eyes of some, my world record is an achievement, in the eyes of others my winning the International Peace Award is an achievement, but the biggest achievement for me is that the society that always told us things about having three sisters, the same people admitted with their own language that they wanted daughters like Anila."
This victory is not only my victory, but it is the victory of every girl imprisoned in the traditions of a society hit by oppression, who believes in creating her own world without caring about the times."
---