"THE BOOK" digital art by Gopakumar R. / poem by Anil Babu – India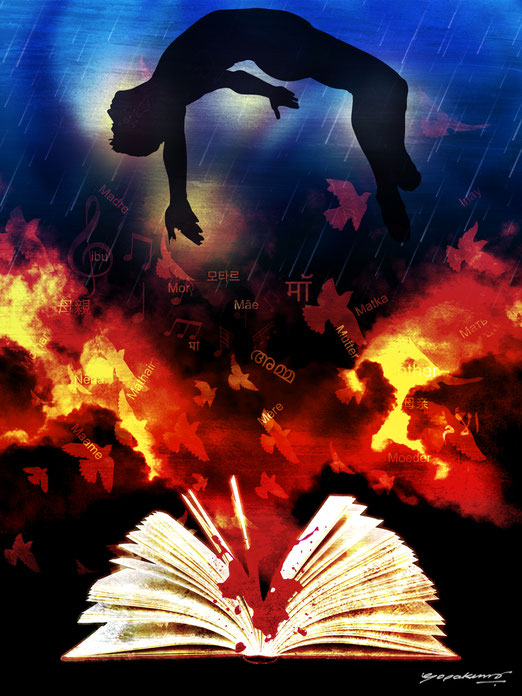 Title: The Book
Medium: Digital Art
Year: 2023
 R. Gopakumar is a contemporary multidisciplinary artist, curator, digital collector from India, known for his diverse range of artistic expressions such as Digital Art, Motion Photography, Installation, Drawing, Painting, and Print. He employs art and technology as a means to address and bring attention to environmental, social, political issues prevalent in society.
He believes that art should challenge and transform the existing visual, intellectual, and aesthetic norms, continuously experimenting with new visual phenomena.
His works have been showcased at renowned institutions and events worldwide, including The Saatchi Gallery in London, Tate Britain, the Kochi-Muziris Biennale in India, Sofia Underground in Bulgaria, CICA Museum in South Korea, and many more. Notably, his motion photography has received recognition by being shortlisted for the inaugural Motion Photography Prize by the Saatchi Gallery London and Google+.
_____________________________

The Book
My sky was about to burst
Without any reason.
When I open you
I hear the music of pure ink.
In the rhythm of raindrops falling
On the stretched and taut
fur
I hear the deep breath of your words.
I know you are in me
As a deep sea in my heart.
When you parch
I let our parted letters fade
On the threshold of horizon.
--------------------------------------------------------------------
Anil Babu's Malayalam Poem (Pustakam)
Translated by Aavani
 Anil Babu, a talented poet from Oachira, Kerala, India, possesses a diverse range of skills and experiences. He is not only a gifted poet, crafting beautiful verses that stir emotions, but also a captivating speaker who engages audiences with his powerful oratory. Additionally, Anil Babu is a dedicated librarian, committed to preserving knowledge and facilitating access to information.
Anil Babu's educational qualifications reflect his passion for literature and history. He has completed a Bachelor's degree in Library and Information Science (BLIC), showcasing his expertise in the field of library sciences. Furthermore, he has pursued his academic journey by obtaining two Master's degrees - one in Malayalam and another in History. This educational background highlights his in-depth knowledge of language, literature, and historical contexts.